Michael Buffer's Net Worth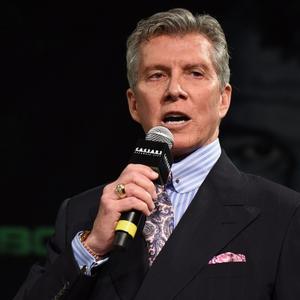 Michael Buffer
| | |
| --- | --- |
| Net Worth: | $400 Million |
| Date of Birth: | Nov 2, 1944 (77 years old) |
| Gender: | Male |
| Profession: | Actor, Announcer, Model, Master of Ceremonies |
| Nationality: | United States of America |
What are Michael Buffer's net worth and salary?
Michael Buffer is an American boxing announcer and entrepreneur who has a net worth of $400 million. He is best known for being one of, if not the, greatest ring announcer for boxing and wrestling matches of all time. Buffer became world-famous when he developed his signature catchphrase "Let's Get Ready to Rumble" which kicks off all major boxing events. He trademarked the phrase. That trademark has earned Michael hundreds of millions of dollars in royalties over the years.
How much does Michael Buffer make to say "Let's get ready to rumble"?
Early Life
Boxing announcer
Wrestling
Other Ventures
Trademark and Video Game Earnings
Personal Life
How much does Michael Buffer make to say "Let's get ready to rumble"?
Depending on the match, Buffer earns between $25,000 and $100,000 every time he utters those five famous words. On a handful of extremely rare occasions, Buffer has been paid $1 million.
Early Life
Michael Buffer was born in Philadelphia, Pennsylvania on November 2, 1944. He was raised in Lancaster, Pennsylvania. His father was active in the United States Navy during World War II at the time of his birth. His parents divorced when Buffer was just 11 months old, and Buffer was then raised by a set of foster parents, a school bus driver, and his wife. Buffer enlisted in the United States Army during the Vietnam War and served from ages 20-to 23. After his time in the service, he had various jobs such as a car salesman and a model, and an actor.
Boxing announcer
He began his career as a ring announcer in 1982, and by 1983 he was announcing all the boxing matches on ESPN. It has brought him fame and incredible fortune, especially after Michael shrewdly moved to trademark his signature catchphrase in 1984, the aforementioned "Let's Get Ready to Rumble!" After a lengthy process, he acquired a federal trademark for the phrase in 1992. He had started the process of obtaining it in the mid-'80s. Buffer served as the exclusive ring announcer for boxing events held at casinos owned by Donald Trump in the late 1980s. Buffer's announcing work has been admired by many boxing greats, including Sugar Ray Leonard.
Leonard once told Buffer "When you introduce a fighter, it makes him want to fight." In total, Buffer has earned $400 million from trademark licensing alone during his career. Buffer signed with DAZN to serve as the only ring announcer for all of its boxing broadcasts. Buffer famously announced on Saturday Night's Main Event XXXV in 2007 at Madison Square Garden in a boxing match between Evander Holyfield and Matt Hardy. On August 25, 2018, he was the announcer for a YouTube boxing match between Logan Paul and KSI.
Wrestling
Until 2001, Buffer was the exclusive ring announcer for World Championship Wrestling (WCW) main events featuring Hulk Hogan and other megastars. The WCW folded, but Buffer still serves as the lead announcer through their former parent company Time Warner pay-per-view matches. HBO broadcasts several matches from promoter Top Rank. His exclusive contract previously forbade him from announcing for the UFC, but once WCW folded he was able to announce in other wrestling promotions.
Other Ventures
In addition to wrestling and boxing announcements, Buffer has also announced the occasional MLB World Series, the Stanley Cup Finals, NBA finals, the Volunteer 500 at the Bristol Motor Speedway, and NFL playoff games. Buffer announced the Affliction: Banned mixed martial arts show on July 19, 2008. Later that year, he announced at the 2008 World Series of Poker finale, between players Peter Eastgate and Ivan Demidov.
He modified his catchphrase to "Let's get ready to shuffle up and deal."  In 2017, he was a guest announcer at the 2017 United States Grand Prix. He has also changed up his trademark line to fit in campaigns for Mega Millions ("Let's get ready to win big!") and Kraft Cheese ("Let's get ready to crumble!") and Progressive Insurance ("Let's get ready to bundle!").
Buffer has guest-starred on many talk shows hosted by David Letterman, Jay Leno, Arsenio Hall, Conan O'Brien, and Jimmy Kimmel. He's also been a guest star on Saturday Night Live, In Living Color, Mad TV, and the Howard Stern Show. Buffer has appeared in many films and TV series including Creed (playing himself), Grudge Match, America's Next Top Model
, The Bold and the Beautiful, 2012, You Don't Mess with the Zohan, Rocky Balboa (also playing himself), Dickie Roberts: Former Child Star, Ready to Rumble, The Simpsons, Rocky V, and more. In 2007, he was in an episode of Deal or No Deal on NBC. Buffer appeared in the 2019 remake of Dumbo and delivers the line "Let's get ready for Dumbo!"
Trademark and Video Game Earnings
It was Michael's long-lost half-brother, future UFC announcer Bruce Buffer, who suggested that he apply for a trademark. Bruce conceived of the idea after hearing about how NBA coach Pat Riley had earned a small fortune by trademarking the term "threepeat." By owning the trademark, anytime someone wants to use the phrase they need to pay Michael. Since 1992, Michael has licensed the phrase to be used in songs, video games, movies, TV shows, and tons of merchandise.
One of the most famous licensing deals was for the video game "Ready to Rumble." After the game was a huge hit, game maker Midway reportedly paid Buffer $100 million to license his phrase in perpetuity. Not bad for a wanna-be actor turned boxing announcer.
Personal Life
Michael was treated for throat cancer in 2008.
His fame has aided in reuniting him with estranged family members from his past. He was contacted by his birth father in 1989 after he saw Buffer on television. He was subsequently introduced to his half-brothers, one of whom is Bruce Buffer, now an announcer for UFC. Bruce started out as Michael's agent/manager.
Buffer got married at age 21 but divorced seven years later. The marriage produced two sons, Michael and Matthew. He did not remarry again until 1999, and he and his second wife divorced in 2003. While Buffer was making an appearance on the Tonight Show with Jay Leno, he proposed to his third wife, Christine. They are still married. Christine and Michael Buffer reside in Southern California.