Evander Holyfield's Net Worth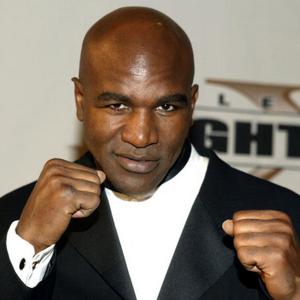 Evander Holyfield
| | |
| --- | --- |
| Net Worth: | $1 Million |
| Date of Birth: | Oct 19, 1962 (59 years old) |
| Gender: | Male |
| Height: | 6 ft (1.854 m) |
| Profession: | Professional Boxer, Actor |
| Nationality: | United States of America |
Evander Holyfield Net Worth: Evander Holyfield is a retired American professional boxer who has a net worth of $1 million. A professional boxer, Evander Holyfield has fought in the Heavyweight, Cruiserweight, and Light-Heavyweight Divisions, and won a Bronze medal at the 1984 Olympic Games. He was also an Undisputed Champion in both the Heavyweight and Cruiserweight Divisions.
Unfortunately, like several prominent boxers, Evander has experienced severe financial problems despite earning hundreds of millions of dollars during his career. Evander earned around $230 million during his career, without even adjusting for inflation. In 2008 he lost his longtime home to foreclosure. He was forced to sell off most of his assets to pay down various debts.
Early Life: Evander Holyfield was born on October 19, 1962, in Atmore, Alabama. He was the youngest of nine children. The family moved to Atlanta, Georgia where he was raised in the crime-ridden Bowen Homes Housing Projects. He started boxing at just age seven and won the Boys Club Boxing Tournament. Holyfield made a name for himself in the ring fighting in the Heavyweight, Cruiserweight, and Light-Heavyweight Divisions.
Young Holyfield qualified to compete in his first junior Olympic at the age of 13. By the time he turned 15, he already become the Southeastern Regional Champion, winning the regional tournament and the Best Boxer award. Holyfield represented the United States in the 1983 Pan American Games in Caracas, Venezuela. He won the silver medal and qualified for his first Olympics.
Professional Career: After he took home the bronze medal in the Light Heavyweight division at the 1984 Summer Olympics, Evander Holyfield made his debut as a professional at the age of 21. He was nicknamed "The Real Deal". It was in 1985 that he moved up to the cruiserweight division, where he won his first title the following year with his win over Dwight Muhammad Qawi for the WBA Cruiserweight belt.
Next, he defeated Ricky Parkey and Carlos De Leon to fetch the Lineal, IBF, and WBC titles and eventually become the Undisputed Cruiserweight Champion. In 1988, he achieved his first win as a heavyweight, as he defeated Buster Douglas for The Ring, Lineal, WBC, WBA, and IBF titles in 1990. Holyfield didn't experience his first professional loss until 1992 when he lost against Riddick Bowe. He regained the crown in a rematch one year later, defeating Bowe for the WBA and IBF titles but later lost them in an upset against Michael Moorer in 1994.
Evander Holyfield's Net Worth
Evander's other victories over notable fighters are those against George Foreman, Larry Holmes, Riddick Bowe, Ray Mercer, Mike Tyson (two times), Michael Moorer, John Ruiz, Michael Dokes, and Hasim Rahman. What's more, Evander Holyfield is the only four-time World Heavyweight Champion. He turned out the winner of the WBA, WBC, and IBF titles in 1990, the WBA and IBF titles in 1993, as well as WBA titles in 1996 and 2000. In 1994, he was forced to briefly retire upon medical advice but triumphantly returned a year later with a clean bill of health.
Holyfield won in a now-infamous 1997 match against Mike Tyson in which Tyson was disqualified for biting off part of Holyfield's ear during the fight. Holyfield was defeated in the WBA, WBC, and IBF titles against Lennox Lewis in 1999. He had a futile attempt to win The World Heavyweight Championship for the fifth time on December 20, 2008, but he lost a controversial majority decision to WBA Heavyweight Champion Nicolay Valuev in Sweden.
He was 45 at the time. 2014 saw Holyfield's decision to retire, and he ended up ranking at number 77 on The Ring's list of 100 greatest punchers of all time. His career record held 44 wins (29 knockouts), 10 losses, and two draws. He was inducted into the International Boxing Hall of Fame in 2017. Holyfield ranks at No. 9 in BoxRec's ranking of the greatest pound-for-pound boxers of all time. Post-retirement, Holyfield served as a boxing advisor and mentor to heavyweight hopeful Zhang Zhilei.
Other Ventures: Holyfield founded Real Deal Records which signed the one-time success group Exhale, among other groups. Holyfield was already a household name by 1992, as he endorsed tons of products in commercials for Coca-Cola and Diet Coke. Holyfield also featured in a video game for Sega Genesis: "Evander Holyfield's Real Deal Boxing."
He is among a number of celebrities to do ads for the restaurant chain Zaxby's. Holyfield carried the Olympic torch in 1996 when it was on its way to his hometown of Atlanta, the host of that year's games. In 2007, Holyfield released a line of cooking products, Real Deal Grill, via infomercials.
Evander Holyfield Net Worth
Holyfield has made numerous television appearances over the years, his first being a cameo on the Christmas special of "Fresh Prince of Bel-Air" in 1990. He also made an appearance in three movies during the '90s: "Summer of Sam", "Necessary Roughness", and "Blood Salvage", which he also produced.
He made a cameo on Nickelodeon's GUTS in 1994. In 2005, Holyfield appeared on "Dancing with the Stars". He and his partner Edyta Sliwinska came in fifth place. In January 2014, Holyfield became the first housemate on the UK "Celebrity Big Brother" after making derogatory remarks about a homosexual roommate. In May 2016, Holyfield was featured on the Argentine reality dance show, "Bailando".
Personal Life: Holyfield was married to Paulette Brown from 1985-to 1991. He was married in October 1996 to Dr. Janice Itson. The two had one child together and divorced in 2000. Evander and Candi Calvana Smith were married from 2003-to 2012. Holyfield has a total of 11 children.
In February 2007, Holyfield was anonymously linked to Applied Pharmacy Services, which was under investigation in Alabama for supplying athletes with illegal steroids, but he has denied ever using performance-enhancing drugs.
Evander Holyfield Money Issues: Just like Mike Tyson, Evander Holyfield somehow managed to blow through a fortune that at one time peaked above $200 million. During his career, Holyfield earned an estimated $230 million in prize money alone. Unfortunately, all that money was gone by 2008 when his 109-room Atlanta mansion was lost to foreclosure. The mansion was 54,000 square feet on 234 acres.
The house cost more than $1 million a year to maintain. After being foreclosed, the house sold at a public auction for $7.5 million. Unfortunately, Evander owed a bank more than twice that amount for the house's mortgage. As of January 2013, he also owed several hundred thousand dollars in back taxes to the IRS. Most of Holyfield's prized possessions have been sold at auction over the years to cover a number of debts and obligations, including his Olympic bronze medal, 20 pairs of fight gloves, championship rings, belts, and 25 match robes and shorts.