Daniel Cormier Net Worth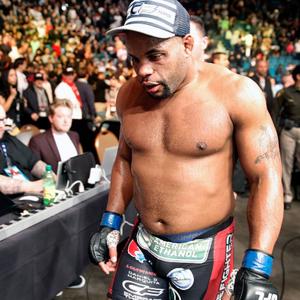 | | |
| --- | --- |
| Net Worth: | $6 Million |
| Date of Birth: | Mar 20, 1979 (43 years old) |
| Place of Birth: | Lafayette, Louisiana, U.S. |
| Gender: | Male |
| Nationality: | American |
Daniel Cormier Net Worth and Salary: Daniel Cormier is a retired American mixed martial artist and former Olympic wrestler who has a net worth of $6 million. During his MMA career, Cormier became the second fighter in UFC history to hold titles in two different weight classes, simultaneously. He also became the first fighter to successfully defend titles in two separate divisions.
Daniel Cormier Net Worth
Outside of the UFC octagon, Daniel is an international wrestler who has been part of the US World or Olympic Team six times. This has resulted in one World bronze medal. He also became the runner-up at the World Cup of Wrestling, and he won gold and bronze medals at the Pan American Games. He is a two-time Pan American champion. Before joining the UFC, Cormier competed in Strikeforce and King of the Cage, becoming heavyweight champion in both organizations. After retiring from the UFC, Daniel became an analyst and commentator for the organization.
Daniel Cormier Net Worth
Early Life: Daniel Ryan Cormier was born on March 20th of 1979 in Lafayette, Louisiana. Raised alongside four siblings, Daniel experienced tragedy at an early age. When he was just seven years old, his father was shot and killed on Thanksgiving Day. During Daniel's high school years, he became an avid wrestler. Cormier eventually won 3 Louisiana State Championships, losing only twice after leaving the 9th grade. He left his high school years with an incredible record of 101-9.
After graduating, Daniel attended Colby Community College in Kansas. He continued his wrestling journey, becoming a two-time junior college national champion before transferring to Oklahoma State University to wrestle in Division I. He proved to be quite effective, although he lost six times to Cael Sanderson and fell just short of reaching all-American status.
Daniel Cormier Net Worth
Career: After leaving Oklahoma State University with a degree in sociology, Daniel Cormier entered the world of Freestyle Wrestling. He eventually placed fourth during the 2004 Olympics. He then competed in events such as the Wrestling World Championships, the Pan American Games, and the Real Pro Wrestling League. By 2008, Cormier had set his sights on a career in mixed martial arts. He started to train as a kickboxer to improve his striking, and Daniel subsequently won his first few matches in Australia.
By 2010, Daniel Cormier was one of the up-and-coming fighters at Strikeforce. He defeated a number of fighters during this time at Strikeforce, including Jason Riley, Devin Cole, Jeff Monson, Antonio Silva, and Josh Barnett.
Daniel Cormier Net Worth
Daniel's first fight in the UFC came against Frank Mir in 2013. Subsequent victories came again fighters like Roy Nelson, Patrick Cummins, and Dan Henderson. By this point, Cormier was one of the most famous figures in MMA. He debuted a new type of wrestling shoe and enjoyed other brand endorsement deals.
In 2014, Cormier suffered a defeat against Jon Jones. Although Jones retained the light heavyweight championship title after this fight, he was quickly stripped of this honor after facing felony charges in New Mexico. Cormier was then placed in a fight against Anthony Johnson for the now-vacant light heavyweight title. Although Daniel was immediately dropped by a vicious right hand by Johnson, he stayed in the fight and eventually submitted his rival. Cormier was now the new light heavyweight champion.
Daniel Cormier Net Worth
After defeating Alexander Gustafsson in 2015, Daniel announced that he had signed an eight-fight contract with the UFC for an undisclosed fee. Over the next few years, Cormier defeated Anderson Silva but was forced to pull out of multiple fights due to injuries, including a rematch against Jon Jones. In 2017, Cormier finally faced Jones once again. He lost the fight and his light heavyweight championship after being knocked out by a head kick.
Daniel Cormier Net Worth
However, Jones was flagged for potential anabolic steroid use, which was later confirmed. As a result, Cormier was given back his old title. Daniel then defended his title against fighters like Volkan Oezdemir. He then won the heavyweight title after defeating Stipe Miocic. He then defeated this second title against Derrick Lewis but lost against Miocic in a rematch in 2019. In 2020, Daniel lost against Miocic for a second time, and he announced his retirement soon afterward.
After retiring from MMA, Daniel has focused on work as a wrestling coach. He currently acts as the head wrestling coach at Gilroy High School in California. He first took this position before his retirement, and he has been coaching students since 2018.
Daniel Cormier Net Worth
Health Issues: Daniel Cormier once suffered kidney failure during his time as an Olympic wrestler, and this was caused by excessive cutting. Because of these issues, many observers have expressed concerns about Cormier's ability to make weight during his UFC days.
Relationships: Daniel Cormier has a number of children with various women. One of these children passed away in a car accident in 2003. In 2011, he and his then-fiancee Salina Deleon welcomed a son into the world. His son is now an amateur wrestler, with Cormier acting as his assistant coach. In 2012, he and Deleon welcomed a second child into the world. In 2017, the pair were married.
UFC Earnings: In July of 2018, Cormier defeated Stipe Miocic at UFC 226 in Las Vegas, bringing his record to 21 – 1. He earned a flat rate of $500,000 for the win. On August 18th of 2019, Daniel lost to Stipe in a rematch at UFC 241. Daniel earned $750,000 for the fight, while Stipe earned $500,000. They both likely earned roughly similar amounts from their cut of the Pay Per View revenue.