Bruce Buffer Net Worth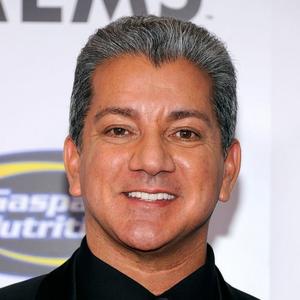 Bruce Buffer
| | |
| --- | --- |
| Net Worth: | $10 Million |
| Salary: | $100 Thousand Per Event |
| Date of Birth: | May 21, 1957 (65 years old) |
| Gender: | Male |
| Profession: | Announcer, Actor, Businessperson, Presenter |
| Nationality: | United States of America |
Bruce Buffer Net Worth: Bruce Buffer is an American UFC announcer who has a net worth of $10 million. He has earned his net worth as the main Octagon ring announced for the Ultimate Fighting Championship (UFC).
Early Life: Bruce Anthony Buffer was born on May 21, 1957, in Tulsa, Oklahoma. As a teenager, while his family was living in Philadelphia, he began studying martial arts. He eventually earned a green belt in judo and a black belt in Tang Soo Do. Buffer and his family moved to Malibu when he was 15. In California, he continued his martial arts training and even became friends with Chuck Norris. It was Chuck who introduced him to Tang Soo Do. Buffer also studied kickboxing for several years until his doctors told him he had received too many concussions.
Bruce Buffer Net Worth
UFC Career: At UFC events, Bruce is introduced as the "Veteran Voice of the Octagon". He is also known for his catchphrases and signature moves. He begins each event with the phrase "Ladies and gentlemen, we…are…live!" Before each main event, Buffer proclaims, "This is the main event of the evening," followed by "This is the moment you've all been waiting for," and finally, "It's the time!", before introducing the final two fighters. He also employs his signature move, named the "Buffer 180," where it motions across the Octagon and then quickly spins 180 degrees to point to the corner being introduced.
Outside of the UFC: In addition to his UFC announcing, Buffer also works as an announcer at many other events, including international MMA promotions and K-1 events, the 2008 Joel Casamayor vs. Michael Katsidis HBO boxing event, and the biannual Abu Dhabi Combat Club (ADCC) submission wrestling tournament. He is also the official announcer for the World Series of Beer Pong, and his voice has been featured in the video game Smite and the UFC-inspired song "It's Time" by DJs Steve Aoki and Laidback Luke.
Bruce Buffer Net Worth
Outside of announcing, Buffer is a skilled poker player and has appeared on ESPN's World Series of Poker Main Event and has also appeared on an episode of the TV series Poker After Dark. He announced the phrase "Shuffle up and deal!" at the final table of the 2010 World Series of Poker and the Luxor Las Vegas poker room was named after him. Buffer has also appeared in episodes of several television series such as "Friends" and "Entourage," and films like "Here Comes the Boom" (2012), "Hot Tub Time Machine 2" (2015), and "Holmes & Watson (2018).
Personal Life and Salary: Buffer's half-brother is world-famous boxing announcer Michael Buffer. They were introduced by their father Joe Buffer in 1989. Together they own a company called "The Buffer Partnership". It was Bruce's idea that Michael should trademark his now-famous catchphrase "Let's get ready to rumble!". Michael would go on to earn hundreds of millions of dollars off the phrase thanks to licensing deals and appearance fees.
Bruce and Michael's grandfather was a famous boxer named Johnny Buff. Buffer was previously married to Annie Buffer, but the couple finalized their divorce in 2015. Together, they have a son Dougie Buffer. 
Bruce Buffer's UFC salary is $100,000 per event.
Bruce Buffer Net Worth
The net worth of Bruce Buffer is $10 million. The information in this article has been accumulated from many sources and has not been verified by us. This article is purely for informative purposes only.
Bruce Buffer is a professional announcer, who has been involved in the entertainment industry since the 1980s. He is known for being the voice of WWE, and he has also done work with other major companies like ESPN.
Buffer's net worth is estimated at $10 million dollars.
Bruce Buffer is a professional interviewer who has a net worth of $4.5 million. He started his career in the film industry, where he was a crew member on Woody Allen's 1973 comedy "Sleeper."
After working as an actor, Bruce went on to host a number of television shows, including "The Price Is Right" and "What's My Line?" He also hosted a syndicated radio program called "The Big Show."
In 2002, Bruce started hosting ESPN's popular talk show "Brucey's Sports Machine." He has been hosting ESPN since then.
Buffer has been an active philanthropist throughout his career; he founded the Bruce Buffer Foundation in 2016 to donate money to causes that support education and health care for children.
Bruce Buffer is a popular name in the world of internet fame. He is known for being the voice of the internet and has appeared on TV shows such as Late Night with Conan O'Brien and Comedy Central. His net worth is estimated to be around $150 million dollars.
Buffer was born in San Francisco, California in 1969 and grew up in Santa Cruz, California. He attended Santa Cruz High School and graduated from the College of Santa Clara in 1990 with a degree in journalism.
After graduating from college, Buffer enrolled at San Francisco State University where he earned his master's degree in journalism from the school's school of communications.
Before becoming a voice actor, Buffer worked as a reporter for KRON-TV in San Francisco, California from 1991 until 2000 when he began working as an announcer for Turner Broadcasting System (which would later become TBS). After working for Turner Broadcasting System for eight years, Buffer started working for ESPN Radio before moving to Fox News Channel where he stayed until 2010 when he left Fox News Channel to start his own company called Airtime Digital which produces podcasts on topics such as politics and entertainment news stories that are read by celebrities such as
Bruce Buffer is a voice actor and the co-founder of Buffer, an online software company that allows users to manage their social media accounts from a single interface.
Buffer's software has been used by over 1 million people, including celebrities such as Ariana Grande, Ryan Seacrest, and Kim Kardashian. Buffer has also created several video series with YouTube personality Shane Dawson, including "The Shane Dawson Show" and "The Shane and Bruce Show," which have garnered millions of views each.
Buffer was born in San Francisco on December 18th, 1979. He attended Harvard University for college before moving to Los Angeles to pursue acting full-time. He began his career as a comedian in 2003 after being discovered by Adam Carolla during an open mic night at The Comedy Store in Los Angeles.
Buffer was also featured in commercials for Burger King and Bud Light while he was still performing standup comedy around Los Angeles. In 2005, he launched his first website called "The Buffer Blog" where he would post comedy videos and other content related to his life and career as an actor/comedian/entrepreneur (all while still working as a waiter at The Comedy Store). The site eventually grew into what is now known as Buffer